Africa is one of the most idyllic destinations in the world; dusty pink hues of the sunsets, dinners in wild places and experiences that will make your eyes well and your heart swell. It is a place to behold, but we believe that we offer some of the most incredible experiences in Africa, especially if you want to have a romantic adventure with your loved one. We have a wide variety of activities that are bound to bring you and your loved one closer than ever.

The waters of Lake Kariba is one of the most astounding sights when you visit Bumi Hills Safari Lodge. When flying in, you could swear that you are looking out over the depths of the ocean, the lake is so big. A picturesque boat ride is a must; you will be able to connect with your loved one while the beautiful hues of the sky change from orange to pink, reflecting over the vast lake. As one of the largest man-made lakes in the world, it's a dream to explore. Journey through the waters on a sunset boat ride which will send you into a dream-like state as you glide through the lake like an enigma. You feel as if you could be the only people on earth, being so remote there is a true sense of place, feeling like you are exploring a secret corner of the world no one else knows.

Perched atop a hill, overlooking the great lake and beautiful red-stained shoreline, Bumi Hills offers so much in terms of natural, dream-like beauty. We offer a wonderful experience of a romantic dinner in one of the wildest places you can think of, on the shore of Lake Kariba.* The beauty of it is the contrast and uniqueness of the experience; a table set on the edge of a lake, with sand beneath your feet, looking out over the silhouetted trees in the water as you dine in a place where wild animals roam. It is a genuinely heart-stirring experience. Zimbabwe exhibits unique and incredible experiences along the iconic Zambezi River. In Mana Pools, we have Zambezi Expeditions, hidden on the lip of the river offers a unique perspective of this 'river of life'. For the adventurous couples who want to embark on walking and canoeing safaris, while still maintaining a dreamy and intimate feel. Couples can have a memorable date in one of the most remote, beautiful and wildest parts of the world.*

One of the top bucket-list destinations is the majestic Victoria Falls and no wonder why. This incredible UNESCO World Heritage Site is a sight to behold and is one of the 7 Natural Wonders of the World, set in the Mosi-Oa-Tunya National Park which can be translated to 'The Smoke that Thunders'. Thorntree River Lodge is our accommodation set on the Zambian side of the Falls; we offer a Victoria Falls visit from a unique perspective; from the Zambian side in high water times, and a visit to the Zimbabwe side during low water times. The benefits of staying on the Zambian side are abundant; you are offered more tranquillity from the tourist chaos, you don't get any noise pollution from helicopters and the likes. Zambia has all the same access to adventurous water activities, such as white river rafting and incredible sunset cruises, but without all the hustle and bustle. Other than just Vic Falls, other bucket-list items could include; seeing the vast elephant herds or the legacy of Cecil in Hwange National Park, visiting the vast Lake Kariba and catching that 'elusive' Tigerfish, and sitting river-side on Mana Pools on the Zambezi River. Africa is truly an eternal paradise.

What could be more sentimental than a relaxing massage with your loved one in a wildly romantic setting? Thorntree River Lodge's Spa is located in an incredibly beautiful, serene setting. The lodge found on the banks of the Zambezi River within the Mosi-Oa-Tunya National Park is where tranquility meets luxury. Equipped with private pools and a spa, this is the perfect place to rest, rejuvenate, and revitalise your tired and sore busy as you ease into your vacation. Bumi Hills also offers a range of relaxing spa treatments, with a spa zone that offers specialised massages to get you relaxed and calm for your holiday of a lifetime. There are many benefits of a therapeutic massage; good for your health, body and your overall well-being. So kick off your safari boots and lay back and let the tensions ease and modern pressures fade away to a distant memory.

Hidden in the Chobe Enclave is the Linyanti Wildlife Reserve, which boasts incredible wildlife including an astounding number of buffalo and elephant. The area set is on a concession which means exclusivity and privacy is top of mind when organising a romantic getaway. If you stay at Linyanti Bush Camp or Linyanti Ebony you receive a free 30-minute scenic helicopter flight based on a minimum 3-night stay between April and November. It is an incredible experience to have with your loved one as you fly over the incredibly breathtaking marshes, over herds of wild animals, clearly a unique perspective for a safari. The camp can also organise a spot to land, have a sundowner and a dinner for two.* I mean, what could be more romantic than watching the wild world from above on an open-door helicopter ride and landing at your whimsical dinner destination.

A mokoro is a traditional dugout boat that ancient fisherman used to use to catch fish for the village; it was once the only way to travel on the Okavango. At Khwai Tented Camp, it is the best way to experience the tranquil and dream-like floods of the Okavango Delta. As you glide through the meandering slipways and channels, you will be bound to see various birdlife, reed frogs and the occasional land animal crossing the waterways in front of you. The Mokoro has been referred to as the 'gondola of Africa', and it's no wonder. With the dreamy experience of reflections of the sky melting seamlessly into the water, it is an other-worldly experience that's made for a picture-perfect romance.
So there you have it, all the starry-eyed, dreamy and adventurous reasons we want you to travel with us to experience our Romantic Africa.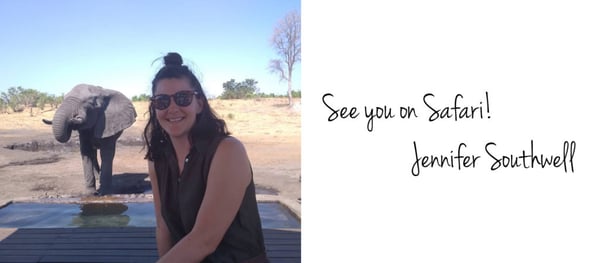 *Please specify all activities beforehand while organising with your Safari Aficionado, so that we can craft a romantic experience for you and your loved one, just the way you want it. The more information the better.