Since a young age, I have been fortunate experience a safari holiday on regular occasions. At 13, from my all-knowing teenage perspective, I thought I had " been there, done that, and got the T-shirt" when it came to safari. As a teenager, I visited Madikwe Game Reserve in South Africa a number of timesI had even been in the game vehicle, ticked off the big five and have the photos to prove it. What more was there? It was soon after that, I went on my first African Bush Camps adventure. My idea of a safari changed forever.
Safari Logistics

I think it is safe to say that for most holidays, transport is essential (air and road travel). Yet, it is never what you write home about. Normally, it is something I can tolerate with headphones in hand and a good playlist to pass the time. Nevertheless, an ABC safari is much more than its camp location. Every element of your journey forms part of the experience.
Arriving at Victoria Falls Airport, you are immediately swept up in ABC hospitality as you are guided through the airport bustle and begin the next phase of your holiday, and move on to what I would call, the "bush plane". This is where the real adventure begins. As you approach the plane, and walk across the airfield's tarmac, you are greeted by your private pilot. It's a pretty cool highlight! Before lift-off, we are briefed on the necessary safety protocols and asked to get comfortable. As the plane ascends into a perfect blue African sky, the game viewing starts, with endless expanses of Zimbabwean Bush sprawling out beneath you, rife with an assortment of animals. Before you know it, the plane is swooping down, landing on a bush airstrip that appears from the trees. Forget long queues, immigration officers and tedious security checks. Picture an arrival complemented with views of impala and zebra herds – quite the welcome!

Top tip – Keep your phone on hand and fully charged, and a backup battery. You wouldn't want to miss out on some great aerial shots.


Food glorious food!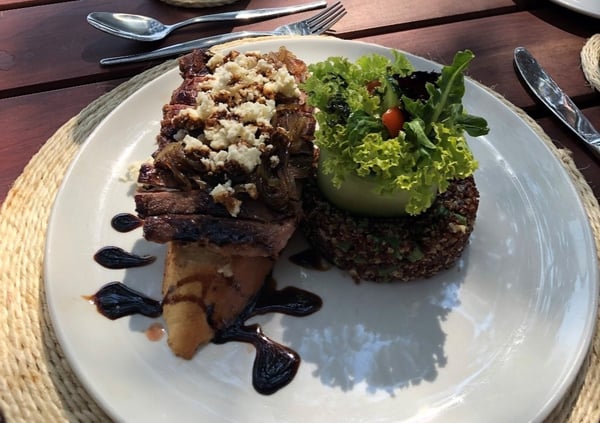 The food is AMAZING. Dining in the middle of Hwange National Park or on the edge of the Zambezi River, with nothing but undisturbed nature surrounding you, your African Bush Camps' chef's cuisine is simply mind-blowing. At the mobile, remote camp, Migration Expeditions, the chefs made a beautiful birthday cake on an open fire! From sunrise until bedtime, there are endless grazing opportunities, breakfast, lunch, high tea, and dinner, in addition to the mid-morning snacks and sundowner siestas. It is the ultimate food safari, catering to carnivores, herbivores, vegans, and anything in between. After a big day of outdoor activities, with a mocktail (or cocktail!) in hand, there is nothing better than the camp's food "angel" announcing the evening's menu.

Mealtimes can turn into great family fun. Some camps have pizza ovens for a "make your own pizza lunch". It's an all-round hit with everyone! It is beyond surreal make a pizza with an audience of elephants and toucans. A truely unforgettable experience. Hopefully, you will be there long enough to enjoy a traditional braai with sudza (a traditional Zimbabwean porridge made of ground maize or millet), wok night or oxtail.

Top Tip – Although challenging, try not to over-indulging on the gorgeous afternoon tea. The sundowner snacks will be on offer before you know it!
A Guide to your Guide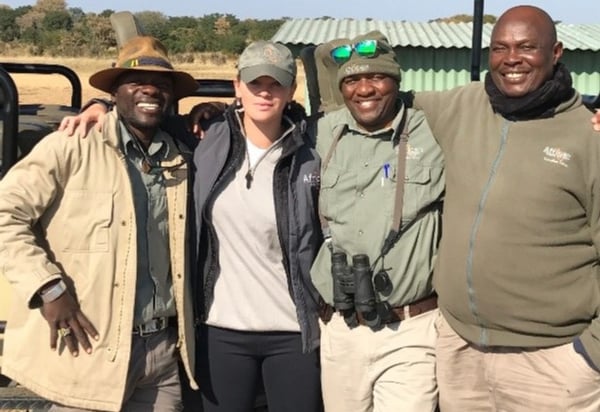 A successful safari requires more than just a game viewing land-cruiser and a few animals. It is, in fact, the guide who makes the experience one to remember. When my brother and I were younger, the guides would create quizzes for the days we were with them. They would offer checkpoints and rewards for identifying the animal track or guessing the animal from the excrement. We still love a good safari quiz, and never shying away from a bit of healthy sibling competition.
Rare sightings can require an extra-early wake-up call. Two years ago (2018), desperate to find the lions, we found them playing in the grass after we spent two hours tracking them from the camp location. It was awesome helping the guide track the cubs – these were serious "bragging rights" to share at our next mealtimes. Ironically, it is when there are fewer sightings when the guides really shine. From learning about their culture, explaining "how the zebra got its stripes" or showing us how to make a toothbrush out of a branch, every day is interesting, educational, and exciting, may it be with or without lions.

Top tip – if a guide asks you what snake made a wiggly line in the sand, he is probably trying to trick you, it is most likely just an elephant dragging its trunk along the ground!




Everyday Adventures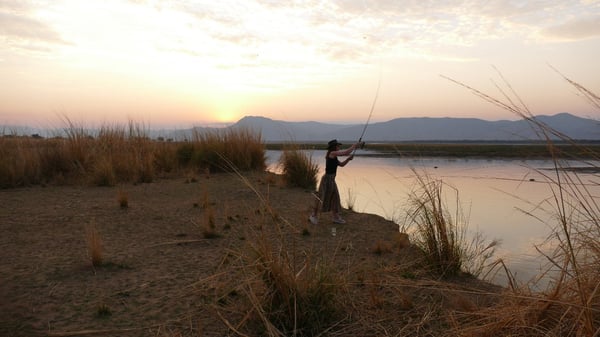 Added to our list was tiger fishing at sunset on Lake Kariba, flying over the Linyanti River in an open-doored helicopter, approaching feeding lions on foot, paddling between hippos in Mokoro canoes, exploring one of the seven natural wonders of the world. The list is endless and breath-taking. Even something as silly as dung-spitting brought a lot of laughter and joy to us all. Unfortunately, despite years of training, spitting dung is still not my strong suit.

There's an endless array of activities at camp. Even after you have finished your day's game drive. I have fond memories of making bead bracelets with Yvonne, the Somalisa Camp manager or going for a dip in the pool while watching the animals enjoy the pan. In the evenings, the African TV is always enjoyable... Yet, the best stories of the day are usually heard around the campfire. In 2014, during the Football World Cup, the staff managed to rig up a real TV back of house to watch the final. Every guest and member of staff crammed round that television to watch the tournament. It was magical.

Top tip – your toughest decision for the holiday will likely be selecting photos for your Instagram. Don't overthink it; they're all cool!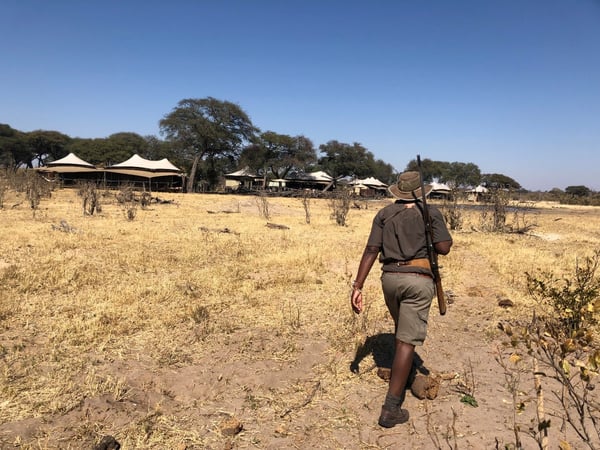 A note for parents: Despite being 20, with no kids and much to experience, , I am confident to recommend ABC safari for the ideal family escape. It offers a unique environment that is removed from modern distractions, and where the entire family can connect and recharge. Being able to share these activities and enjoy the incredible wilderness together is special.

It is not only my favourite holiday, but my favourite place in the world. The beauty of an ABC safari is that it never tires, however old or young you are. Every visit is different, be it sightings or experiences. There is always more to explore. Once you have discovered the animals, you can learn about the birds, and then you can move onto the bugs – there is something for everyone.
It is not just about the wildlife. A safari with ABC is an international experience because of the people you meet along the way. I'm still in touch with many of them, even if I have only met them for one night around a campfire.

I now find myself completing a degree in International Relations, hoping to specialise in sub-Saharan Africa. We should not underestimate how much these global experiences shape us.

As I finish writing this blog post from a 'lockdowned' England, there is nowhere I would rather be than in southern Africa with ABC.