The Cecil Effect
Cecil was a famous lion that ruled in the Somalisa Concession, near our Somalisa Camps. He brought many travellers to the area. A big game hunter killed him, which created an uproar in the wildlife community, and the world at large. Many people returned to Hwange, where he once roamed, to see the pride he left behind and how the dynamics have changed. (Read more about Cecil in our two part series here)
Stacey and Dave came to Somalisa Camp in 2017 and Stacey has always been eager to share her beautiful stories and pictures of Cecil's Pride with us, we thought it would be nice to share their experience with you.
What brought you to Somalisa Camp?
"Africa is a must. A person soon realizes just how small and insignificant one is in this place we call planet earth.
I had visited the Victoria Falls in 2002 (after spending the majority of my safari in Botswana) for a few days and never felt I got the full Zim experience.
I was eager to visit Hwange and (hopefully) see Cecil's pride and Bhubesi. Thanks to Calvet and Michael that happened.
This was Dave's first trip EVER overseas! Needless to say, he was apprehensive at first because the unknown is always a bit scary, but I'm happy to report he officially has the 'African Bug.'"
Who were your guides?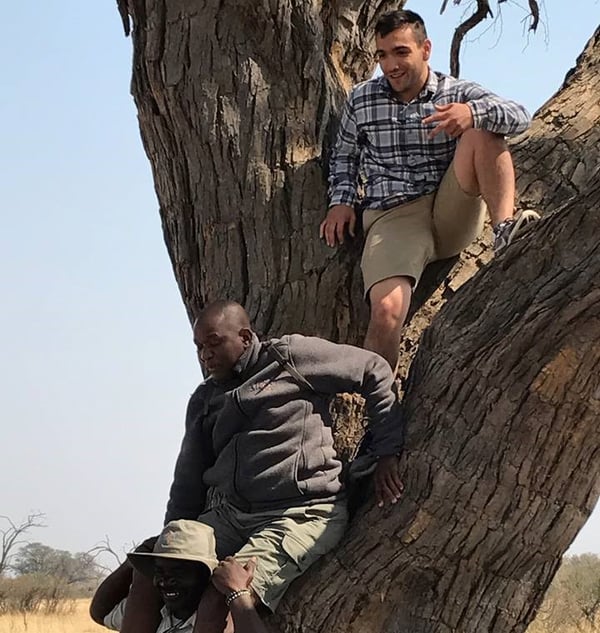 Our guides were Calvet and Michael, their knowledge and camaraderie was incredible. They could spot an animal from miles away!
Calvet, in particular, had a 'silly' side and could be very entertaining – as indicated by his willingness to climb a tree along with a 20 something year old American man!"
What was your favourite memory of the trip?
"There are so many, but the memory that still gives me goosebumps (two years after it happened) was the anticipation of possibly seeing Cecil's pride as we had spent two years concerned for his cub's safety after he was killed.

Calvet and Michael got word the pride was spotted and took us to their location. At first we didn't see anything, then slowly out of the long grass, all in a row, there they were! As each passed by our vehicle they glanced up at us! What a moment!

Needless to say, there wasn't a dry eye in the safari vehicle. On another day, the pride were near camp and were all lying down and then went down to the waterhole to drink. Was so special.

Spending time with Bhubesi was a highlight - to be in the presence of a male lion is indescribable and humbling,

On a warm, sunny day watching Cecil's pride lying on a mound half-heartedly thinking about making a kill."
What other wildlife did you get to see while at Somalisa?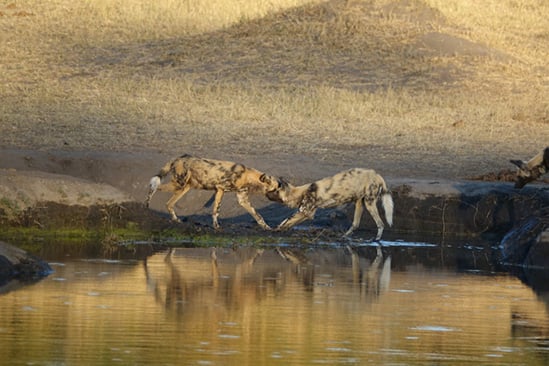 After our FIRST afternoon game drive, Calvet and Michael got word there were a pack of Painted Dogs near camp. We hurried back to find the pack at a kill!


The interactions between the Painted Dogs as they lounged and drank at a waterhole.


Sitting on the deck at [Somalisa] camp and watching the elephants came down for a drink and quickly realizing the little ones were always ahead of the rest of the herd. The peacefulness, their soulful eyes, and bond the herd shares is evident.


Watching two cheetah brothers looking "too cool for school," and they knew it!



Me standing outside our tent admiring a young elephant, taking cellphone video. He made it clear I was on his turf and exposed his huge ears and did a quick step in my direction, then went on his way.



What would you say, other than the wildlife, stuck with you
"The food was some of the best I've ever eaten, and the accommodations couldn't have been nicer.
The entire Somalisa staff were consummate professionals – yet friendly and welcoming. I must admit, when our time at Somalisa was complete, I teared up as we drove away."
We're always so happy to hear stories from guests like this. We are in the business of making memories, so if you would like to make some memories with us, or would like to share your stories at our camps get in touch, we love to hear from you.
Have any memories to share? Contact us at marketing@africanbushcamps.com