Photos have the ability to evoke emotion in you and solidify experiences. Looking back at your favourite photo of a lion, staring straight into the camera, and it all floods back to you; your heart racing as he holds his gaze with his deep golden eyes, the shiver in your spine as his rumbling roar reverberates your being, you're in awe of his primal power. You're taken back to your guide telling you the story of the coalition as you sit around the cracking campfire under the milky way, you smile as you remember the laughs shared around the dinner table reliving the moments of the day.
A safari is a perfect place to hone your photography skills, capture incredible sightings but also create once in a lifetime moments and revisit them again and again and never let them fade away.
Specialist safari guide and founder of Escape Safari Co. Mike Sutherland took Marten Heinrichs on a photographer's expedition to explore and capture nature in its raw and unadulterated form and where better than Zimbabwe?
Mike tells us, "Each year I make sure I take an annual pilgrimage to Zimbabwe, one of my favourite safari destinations in Africa and for the past 6 years I have been fortunate to do so. Each time, bringing new guests to see the wonders of this magical country. This years safari was certainly one to remember and travelling with African Bush Camps was the key to the success of the trip.
This particular safari was a 9 day photographic journey between two vastly different areas of Zimbabwe, beginning in Hwange National Park, where we stayed at Somalisa Expeditions and ending in Mana Pools National Park, staying at Nyamatusi Camp."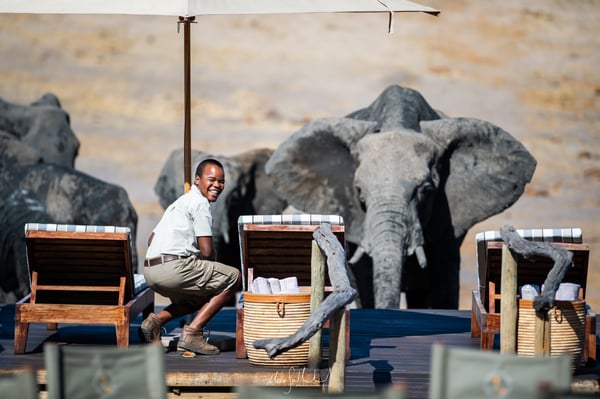 Our camp manager Tony, trying to set up some umbrellas, as the elephants take advantage of fresh water in the pool at Somalisa Expeditions - a pool that now belongs to the elephants. by Mike Sutherland
Marten has been to more than 10 African countries and Mana Pools has been at the top of his list for a while. He wanted to do a specialist photography safari, which he booked with Mike, and this is what he had to say about his experience: "Both camps offered us incredible moments which I will remember for the rest of my life. We had a warm welcome at both camps, wonderful tents and friendly staff. Everybody took care of us and everybody tried to ensure that our safari was one to remember! Special mention must go to our guide Dickson from Somalisa Expeditions for engaging with us and making it so special!"
"The brand new Nyamatusi Camp is located in the eastern part of Mana Pools National Park, close to the Zambezi River. Every tent has a view of the Zambezi River and the mountains in Zambia on the other side. To go to Mana Pools was a lifelong dream for me, and it certainly lived up to its expectations. I drove through the famous blue forests, I saw the elephants standing on their hind legs, I braved a walking safari and I enjoyed canoeing on the Zambezi River and so much more. One of the best moments was the dinner on a sand bank in the middle of the Zambezi River." Marten continues.
Mike tells us, "[because] the safari was planned with photography as the main focus, we arranged to travel in October, the driest month of the year. It's a time just before the annual rains begin to fall and the bush is dry and open. This lends itself to interesting photographic opportunities and we were spoilt on our safari with some incredible game viewing!"
"Hwange was a particular highlight, with the presence of enormous "mega-herds" of elephants that constantly move to and from water. Spending the afternoons sitting patiently at some of the waterholes, watching the sun set as hundreds of elephants frolic in the water was a true highlight for both Marten and I."
They were kind enough to share some of their favourite shots about the trip below. Why not get in touch now to book one of your own photography focused trips, such as our Photographer in Residence safari where you get the chance to learn directly from a professional photographer in camp!