"Welcome to all the guides who have made the effort to join us. This is always an exciting time for all of us.
Congratulations Guides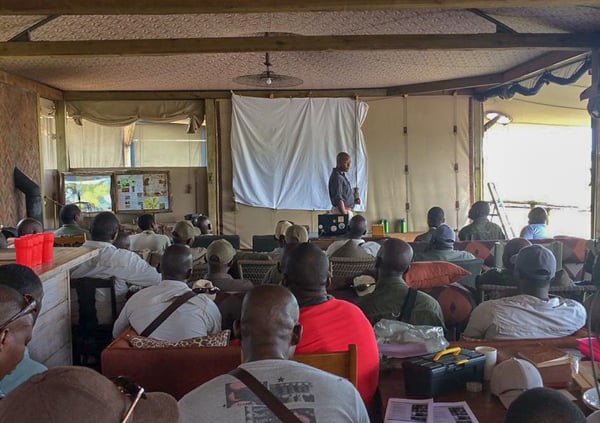 Every year we have a number of us who achieve further growth in their guiding careers, and I would like to congratulate David and Cloud from Zimbabwe for passing their full guides license. From Botswana well done to Mighty for passing his full guides license that now enables him to get his full walking license - it's noteworthy that Mighty has been with us now for over 10 years and started his career as a waiter, then trainee chef and today he is well on his way to becoming the superstar that he is. Gilbert from Botswana who has been a Pro Guide and recently passed his Guide Trainer License. Well done and well deserved to all of you.
I would also like to recognize, as with Mighty another guide Essay who has been with ABC now for over 10 years. You have both grown into mature guides with whom I have the greatest respect for - thank you for serving us so well.
Guides training, which we've been the trailblazers in, is a time for all of us to participate - we have all come to give and receive. We proudly boast that we have over 600 years of guiding under one roof once a year and this really makes it extra special.
Thank you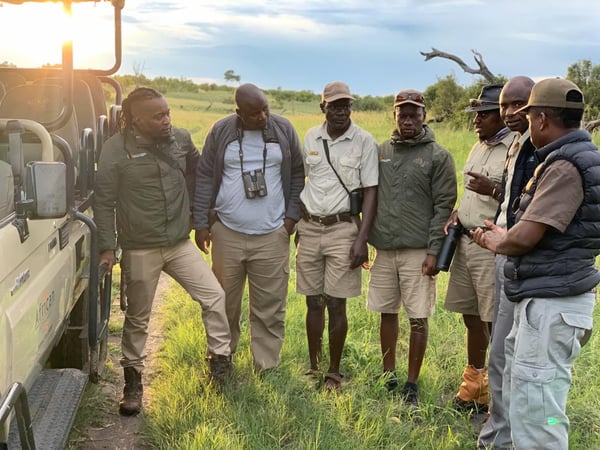 Paul Hubbard, a specialist in archaeology, history and culture will be introducing the guests who have also come all the way to add value to the training - to you both thank you for taking the time.
To the staff that work diligently to serve us during this time allowing us to focus on the training - thank you too!
The camp managers today also embark on a 'Train The Trainer Workshop' at Bumi Hills. This is an exercise which is the start of a roll out of ABC's brand crystallization which clearly outlines 'Our Vision, Values, and Purpose'. This all boils down to understanding 'The ABC Way' which already most of you are familiar with. It's important as the business continues to grow for all of us to have aligned visions and values and understand our purpose. I am personally counting on each and every one of you for support in embracing the cohesion and crystallization of our values and our brand.
Let's all have fun and make this yet again another special gathering and all the very best for 2020. It is my hope that what is shared and learnt over the next few days is what bonds us and inspires us to outperform any other organizations.Especially when it comes to guest experience."
Take a look at our video to find out more about our annual guides training: