In 2016, I returned to Africa on my fifth safari, and my first time in Zimbabwe, traveling solo as usual, a single mature woman. I spent a month exploring this fascinating destination from Bulawayo, to Gonarezhou, from Matopos to Hwange, and then on to Mana Pools and Harare. It was during this safari that I first experienced the charming hospitality, exceptional guiding, and luxurious but thoughtful accommodations of three ABC camps. A new standard of excellence was set by Beks and his team!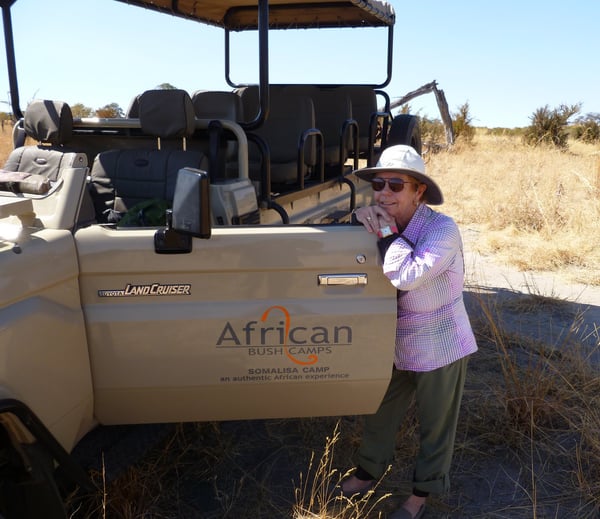 As an elephant enthusiast, Somalisa Acacia in Hwange NP was the perfect place to see vast herds, and intimate close encounters right in camp. Guide Magic Mike and I had a particularly special sundowner, as a massive bull came within ten feet and lifted his trunk to quietly smell me, while I stood transfixed outside the vehicle. It was an unforgettable moment! I celebrated a birthday at Somalisa Acacia, spent time with Cecil the Lion's pride, enjoyed the delightful company of Hostess Yvonne, and nearly froze my tush off on those cold Kalahari sands in the mornings! I had a hard time saying goodbye to Somalisa Acacia after five amazing days.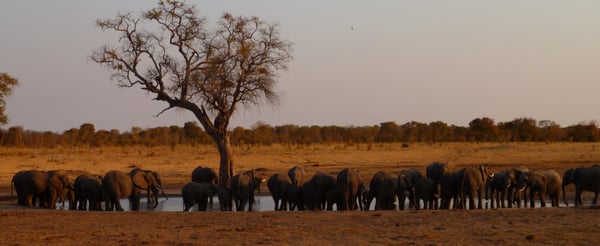 A more rustic, but equally enjoyable ABC camp. was Zambezi Expeditions on the banks of the Zambezi River in gorgeous Mana Pools NP. Here the highlight was African Painted Wolves, and Guides Cloud and Lovemore, got me into the action, both on foot, and on an exciting game drive as the pack was in full hunting mode! On two of the three days I stayed at this camp, I was the only guest. Spoiled? Yes, indeed!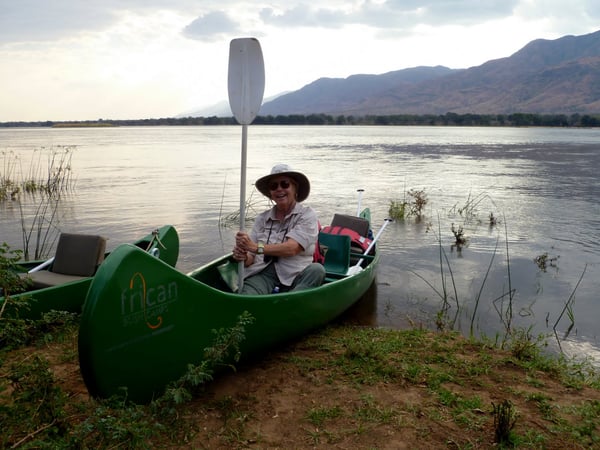 What to say about the last days of my safari at ABC's Kanga Camp, also in Mana Pools? It wasn't planned; I decided to leave another camp for personal reasons, and ABC smoothly made the transition to Kanga. It turned out to be the most exciting two days of the entire trip! My Guide Reggie was always by my side; so knowledgeable; a true gentleman. I was ensconced in the most stunning safari tent/suite I have ever been privileged to stay. Dinner that first evening was something I still recount when I think of Kanga Camp. An impala was driven into, and then out of, the pan fronting the camp by a pack of Painted Wolves, and the kill took place under the dining area credenza….not seven feet from our table! It was sudden, stunning (and yes, loud!), capped by our waiter who nonchalantly asked if we would like our next course, since it appeared that "the dogs have had theirs." Of course, a lovely leopard stopped by for her evening nightcap at the pan while we were having ours. Kanga, you are much more than an "armchair safari" camp!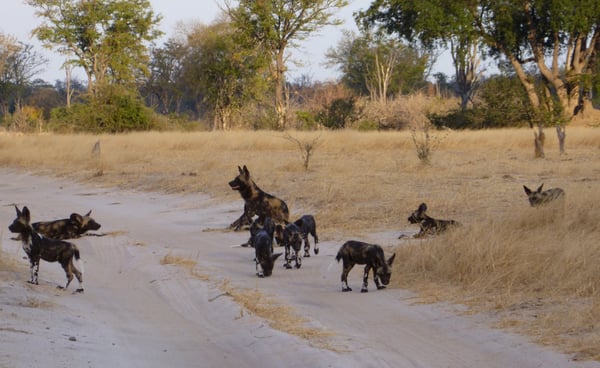 Sure, these sorts of things can happen elsewhere while on safari, but the panache and professionalism of the ABC staff make these adventures so personal for their guests. African Bush Camps' Foundation is equally impressive, always an important part of any purposeful safari. I congratulate Beks Ndlovu and his amazing team for all they do, not only for their clients, but for their community. Is there any question why I plan to return in 2021 and discover more of that special ABC touch?!