"Lead by example" is an expression I am sure many of us have been told throughout our day to day lives — an expression which instils pride in one's life. African Bush Camps', founder and CEO, Beks Ndlovu is a man who has earned a reputation for success, as a leader within the travel and tourism industry, and it is his example that has shaped the lives of many others. Much of Beks' success can be attributed to his vision to invest in and bolster his community. As an African man who grew up in rural Zimbabwe, he knew from an early age that the path to success is not one that is walked alone.
Beks' story as an individual is a remarkable one. It's not an account of Beks, the man, but rather one of a vision destined to challenge and change the norms of an industry where African potential abounds. The African continent is one of colour, diversity and beauty, but she is not without scars from a fractured and challenging past.
"History is not the past. It is the present. We carry our history with us. We are our history."
– James Baldwin
We are our history, and we are our future, it falls to each of us to push the boundaries, to change the future and shape it into the outcomes we desire.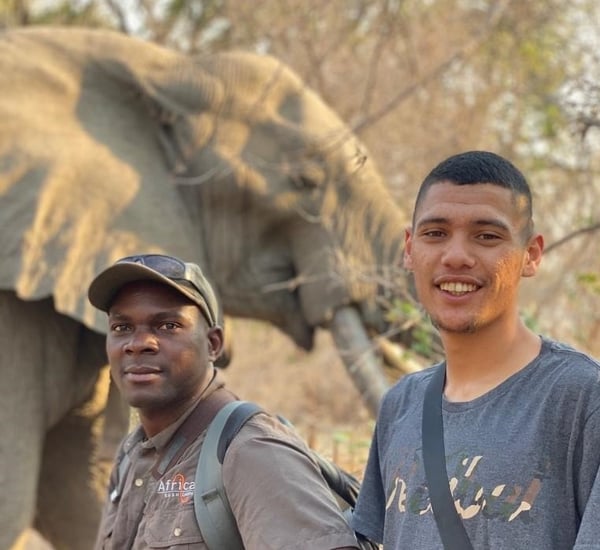 Image: Luqmaan joined with colleague TK learning the intricacies of our natural surroundings
Beks has lead by example in establishing African Bush Camps, a safari company which strives to share and conserve Africa, together. It's here at African Bush Camps' head office, where Luqmaan, a young man of local Cape Malay heritage from Cape Town works as a Safari Aficionado. Although Luqmaan grew up in post-apartheid South Africa, he was by no means exempt from the repercussions by this debilitating and divisive system.
Under the watchful eye of his strong-willed mother, who understood the power of investing in her son's education, Luqmaan began to challenge the norms laid out for him by an unfair and unaccepting society. Keenly aware that education was his best path to empowerment, Luqmaan graduated high school at the age of 18. Before graduation, his youthful worries were of soccer, cool cars and food. After graduation real-world worries began to take shape, and the question became what next? What could he do to secure a future for himself and his loved ones?
Unbeknown to Luqmaan the instituting vision of African Bush Camps' founder held the answer "Invest in your communities!" Luqmaan barely knew the word "safari" and had certainly never envisioned himself going on one. The irony of it all, Africa's greatest asset beyond her people, is her wildlife and yet it is a sad truth that these two so seldom meet. Invest in your community! Engage with them, allow them to see the benefits of investing in Africa's amazing natural assets and see those assets flourish along with her people for generations to come.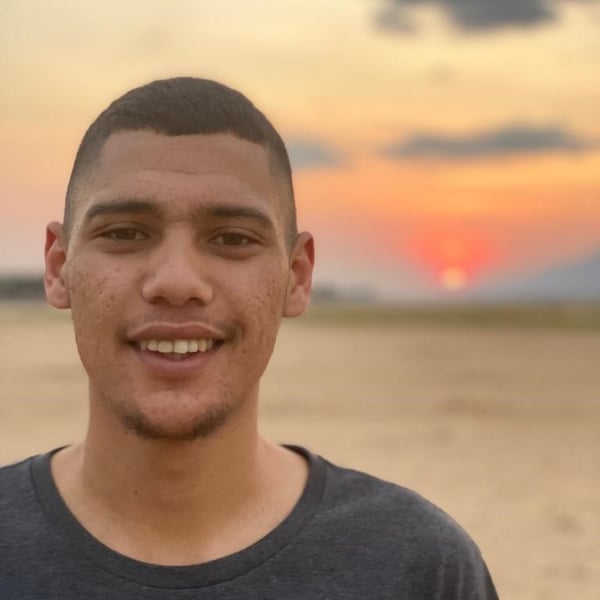 Image: The rising of a new safari goer
So it was that Beks' vision that took shape in Luqmaan's life when he started working with African Bush Camps in 2017, the year following his graduation. Wide-eyed, and dressed in a crisp white button-down shirt, feeling somewhat out of his depth, understandably so, he put his head down and started to learn the ins and outs of the safari world. The roles different parties played, the complicated sales systems and the confidence to inform and educate safari - goers of what was on offer. As per company policy, each employee has the opportunity to travel to the camps and experience first-hand the beauty of our land, the uniqueness of our wildlife and the importance of our role in preserving it.
Invest in our communities!
Luqmaan was terrified of flying, having left Cape Town only once, on a flight to Johannesburg following which he vowed never to fly again. Three years on, a change of heart or more likely a growing curiosity, Luqmaan found himself in front of the home affairs camera being instructed not to smile (a tricky task when inside he was brimming with optimism) for his passport photo. The green book which would expand Luqmaan's world once more, this time beyond South Africa's borders.
African Bush Camps has luxury properties in Zambia, Botswana and Zimbabwe offering experiential travel in Southern Africa. Luqmaan knows all the details; flight paths, hosts and guides of each camp he has contributed to fulfilling many an international traveller's dream vacation. A dream that was never his, but had now become a world he could not ignore. This young boy from Cape Town was now set to experience first-hand the essence of Africa. Overcome with a mixture of excitement and nerves; I asked him the day before his departure what he was most excited about, his response, "To meet all the people and to see the king. A lion!" I hugged him and wished him well while thinking to myself, he may know all there is to know on paper about what to expect, but boy he has no idea how this experience will change him forever.
Invest in our community!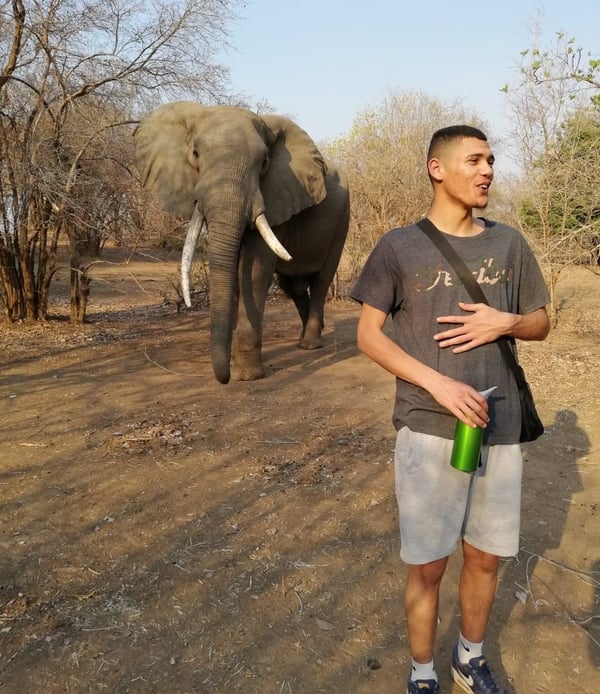 Image: Who's more surprised? Broaden the safari opportunity.
After two weeks on safari in some of the most pristine, untouched wild spaces Luqmaan was back in the office. Nothing in this world could erase the look on his face. Exposed to the purity of African nature Luqmaan has been changed forever, the life that beamed from him as he enthusiastically told us accounts of his journey, was infectious. His disbelief of the size of an elephant and how mellow this magnificent creature could be. The thrill of watching a pride of lion hunt followed by the humbling emotion, as the circle of life played out before him. The joy of learning from his colleagues who taught him about the intricacies of the endangered wild dogs. The weariness he felt waking up before sunrise to track a cheetah. The love he shared with our in-camp team as they showcased the Africa they know so well. The respect he felt as he realised, he is part of the process of conserving Africa, her people, wildlife and landscapes.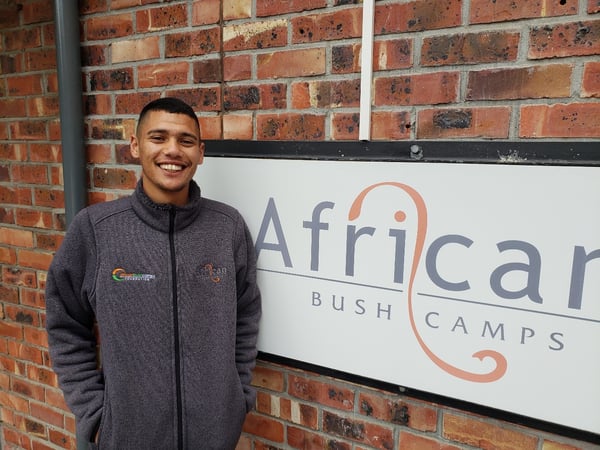 Image: A world of opportunity awaits
It has become evident to me that not all of us will be founders like Beks, but the onus is on us to all be leaders to a future we can all be proud of. We should never try to hide the scars of our past, instead learn from them, and carry our history in order to create an Africa accessible to us all. Thank you Luqmaan for taking up this responsibility and leading the way for your colleagues, peers and the future generations, who one day will learn from your example and take up the challenge to share and conserve our Africa. It has been a delight to share this journey with you.