Please note that as of the 1st October 2016, the Botswana Government updated their laws concerning travelling with minors. The Ministry of Nationality, Immigration and Gender Affairs informed the general public and travel industry that it has imposed requirements for minors (children under the age of 18-years) travelling through the country's ports of entry.
Minors travelling through Botswana's borders will be required to produce certified copies of unabridged birth certificates in addition to their valid passports. In the event that one parent is not travelling with the child, the other parent's affidavit consenting to such travel should be presented. However, an affidavit will not be required if the father's name does not appear on the child's birth certificate. In a letter we received from the Botswana Ministry of Nationality, Immigration and Gender Affairs, it was stated the decision is due to an enactment of the United Nations Anti Human Trafficking Protocol: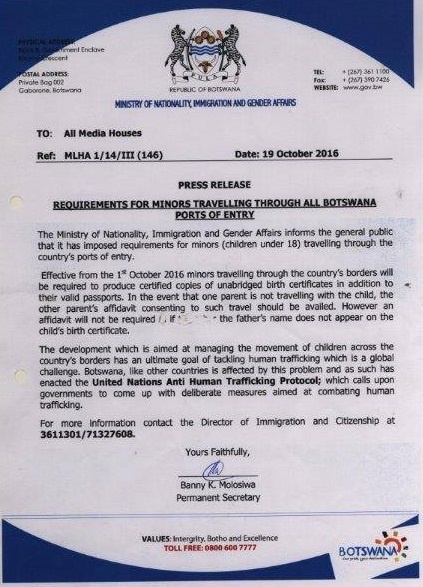 The following documents will be required when travelling to Botswana with minors:
Valid Passport
Valid VISA, if required
Unabridged Birth Certificate (Birth Certificate containing the particulars of a minor and those of the parents)
A letter of consent from the other parent should the minor be travelling with one parent
These requirements are similar to the ones introduced by South Africa in June 2015, and as such, should not affect our guests to a great extent as most of them travel through South Africa before entering Botswana and should already have the correct documentation. If you are unsure of the requirements, please get in touch with one of our dedicated travel consultants to help.