Ah, 2020, you've been tough (at least we passed the halfway mark). This year, words like 'unprecedented' and 'new normal' have earned their places in the dictionary. After this time of overwhelmingly instant change, you'll need a break. I'm here to tell you why it should be in Africa. You can have a guilt-free break and spend your time in wide-open spaces and disconnect from the turbulence and trepidation of it all.
1. Low people densities

We may all crave real human connection - something that isn't done through a computer screen. Families, couples and those venturing on a solo trip - we have options for you! For years, people have chosen to come on safari to disconnect from the fast-paced life and unwind in the stillness of Africa. Gathering around a crackling fire with no distractions aside from the sound of crickets in the background. Now, more than ever, we need a break. With our flexible postponement terms, we recommend you book a trip now and once borders open; you'll thank yourself. Book some space with your family and have the guilt-free holiday you've been looking forward to. The rejuvenation that comes with a holiday to you to nature is good for the body and soul! If you want that extra level of exclusivity, you can even book out the camp for your group and hire private vehicles for an additional fee. (contact us now for more information)
2. Away from cities and major disease epicentres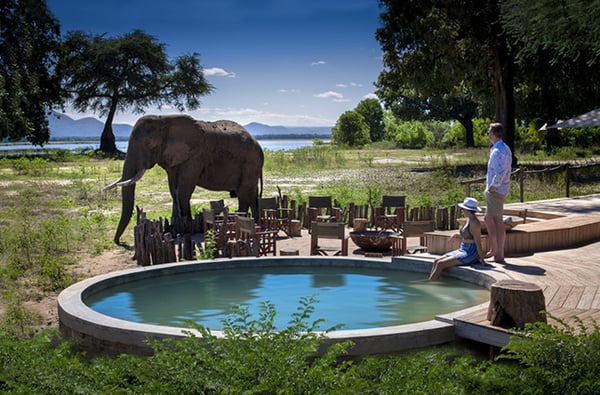 Africa awards you with vast spaces and time to reconnect to the stillness of nature. It can be pretty stressful being anywhere close to big crowds (and for good reason). At our camps, you get the chance to swap your small apartment for 15,000 hectares to explore in our Somalisa Concession in Hwange National Park or 125,000 hectares in our Linyanti Concession. The benefit of feeling like you are the only guests in an area this size is the new sense of luxury. We are seeing a trend of less travellers committing to overcrowded destinations in urban areas and more of a need to venture out into the great outdoors.
3. Private accommodations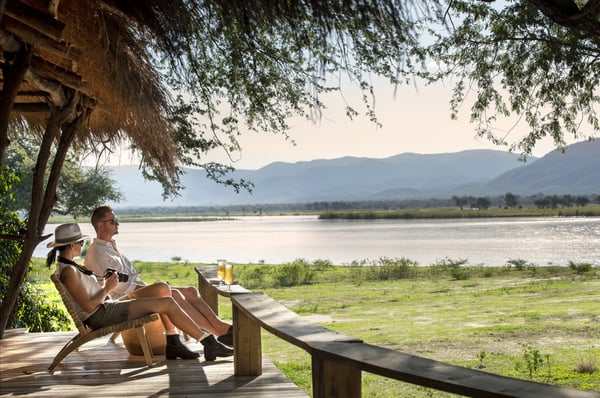 The sense of place you feel in these wilderness areas is unparalleled. Our accommodation that is well spaced out and private. The only peeking neighbour you may have is an elephant looking over at your private deck or, if you're lucky, a lion. As far as cleaning is concerned, strict COVID-19 compliant cleaning measures are in place at all properties which are all bases for risk control. Our teams completed refresher courses on correct cleaning procedures, ensuring the very best transmission mitigation. Guests will need to vacate rooms by 8 AM on their dates of departure. Arriving guests may enter their rooms from 4 PM, allowing us time to deep clean and disinfect the rooms and their contents between visitors. Bed linen and towels will not be changed during the guest's stay unless requested or necessary.
4. Widely spaced open-air dining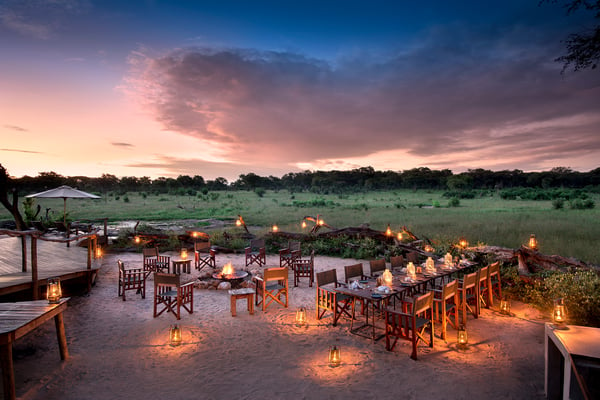 During the pandemic, we learn something every day. Recent studies show that the coronavirus is prone to transmit more easily indoors than outdoors. This is because of the larger volume of clean air and limited closed space. Rest assured, all our staff will be wearing masks During this time, at mealtimes, guests' seating will be arranged according to social distancing guidelines as provided by the WHO and government recommendations. Hosts or guides will not join guests at mealtimes for social distancing practices. Breakfast menus, braai nights, traditional nights, etc., will have no self-service and structured to avoid any direct guest contact with uncooked food. Sanitiser dispensers and sanitary wipes will be available on each guest table during mealtimes. Kitchen staff will sanitise before handling food or drinks. Our staff will always wear gloves and facemasks during food preparation.
5. Open game viewers and outdoor activities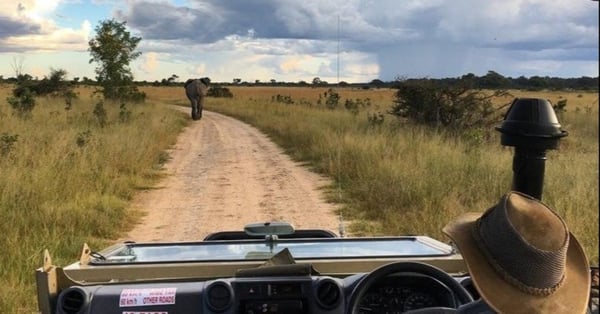 When you're on safari, the environment is your playground - you can enjoy activities and meals in the open, limiting interaction and the possible spread of COVID-19. Game drives are considered open-air activities and are, therefore, relatively safe. A game drive is unlikely to result in the passing of any respiratory and airborne germs. We will, however, adhere to all standard preventive measures. Game drive vehicles will be limited to a maximum of six guests unless all guests are travelling in a group. Guided walks will be restricted to people within the same group with no more than six guests. Canoes will be restricted to a maximum of two people per . Hand sanitiser and sanitary wipes will be made available for each guest. During this time, we ask all guests to provide all their own clothing whilst moving around. Regrettably, communal ponchos , warm clothing, rainwear, and blankets won't be provided.
6. High staff to guest ratios which means greater than average ability to clean germs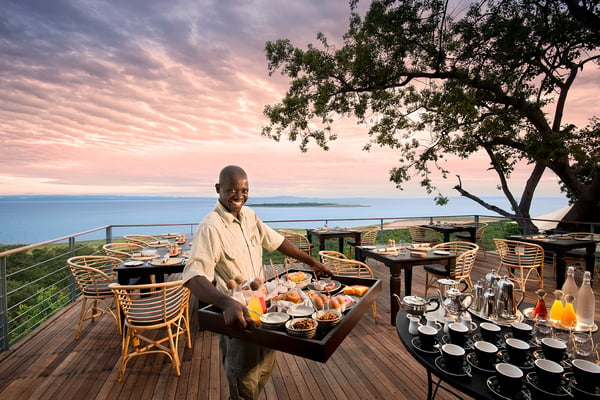 ABC staff will go above and beyond to ensure you feel relaxed, safe, and enjoying your well-deserved holiday. We have appointed and trained members of staff in camps who'll serve as the 'Health Liaison Officer' who is in charge of enforcing procedures. Small acts such as guest water bottles will likely ease your mind while travelling. The bottles are provided in their original packaging, and water dispensers will be available in common areas for guests to refill their own bottles.
7. Active incident reporting systems in place, which urban hotels don't often have

African Bush Camps employ specialists for all medical concerns or emergencies. Because all our camps are in remote areas, we need to have procedures in place in case of emergencies. Many urban hotels are currently limited to these processes.
8. Backup from medical support teams (needed for core business because of location of operation and useful to repurpose for real-time medical risk assessments)

During the pandemic, we are required to follow country-specific government procedures to limit the potential spread of the virus and provide treatment to people who may carry the disease. Such procedures change regularly, and our expert operational team keep abreast of the alterations and adjust our processes. Current requirements can be found on the respective government websites or available from us on request.
9. Presence of guests in National Parks helps in safeguarding wildlife
Currently, our team have been serving as guardians of wildlife, patrolling the lands on foot, and keeping busy to be ready for your return. The presence of a safari camp in an area is important to ensure safety of wildlife. While travelling in your game vehicle, you add to the number of boots on the ground by deferring any poachers coming into the area.
10. Safari tourism benefits community, conservation & education in the areas of operation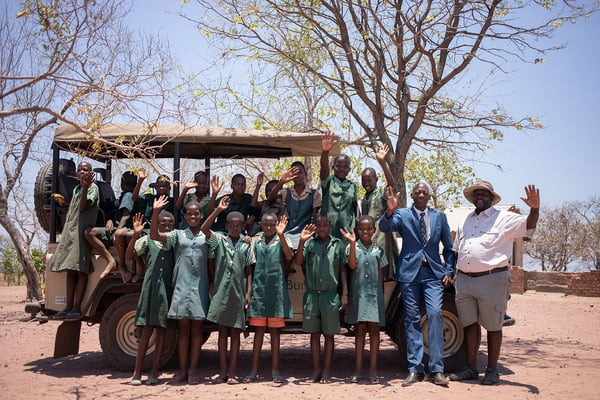 At African Bush Camps, we donate $10 per guest bed night to our Foundation in order to cover operational costs. Annually, 2,5 percent of ABCs turnover goes towards the Foundation. With no guests in camps currently, our Foundation is in more need of funds now more than ever. When you come to Africa, you are investing in more than just a relaxing holiday, you can help better the lives of those in need and help in the process of self-empowerment through collaboration. Interconnected activities such as community empowerment, conservation support and education are supported by our Foundation in the areas in which we operate.
Overall, we want you to feel comfortable and ready to travel with us again, and we have laid out all our health procedures to ease your mind and offer you a peaceful escape.
We are offering various special offers and flexible terms for you to be able to afford your much-anticipated getaway. Our consultants are here to answer any concerns or questions and go above and beyond to accommodate your needs. We've also put together an outline of How to Plan a Safari Amidst COVID-19.