At African Bush Camps we have a range of activities at all of our camps. We have picked six of the best activities to do whilst on safari with us; game drives, walking safaris, horse riding, fishing trips, Mokoro rides and the great Victoria Falls.
1. Game Drives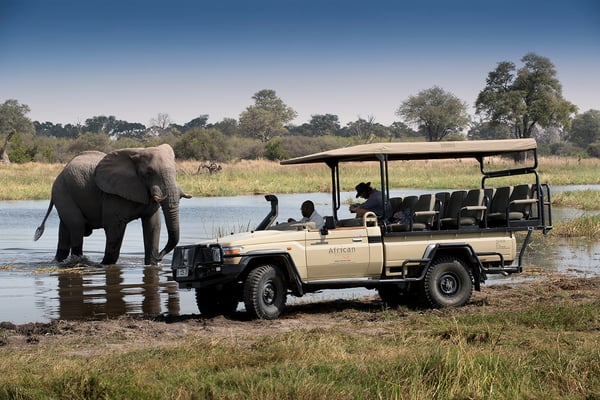 There is no better way to experience the raw power of Africa than to drive through the bush in one of our cruisers. The thrill of a game drive is what gets us up in the morning. As we sip on hot coffee in the predawn light, we anticipate what this new day will bring. After breakfast, we load up into the 4x4 and set off into the unknown. Not knowing what could be hiding behind the next corner is the most exciting elements of a game drive. At African Bush Camps, we always take a moment to stop the vehicle, stretch our legs and appreciate the environment we're driving through. In the mornings we stop for tea, coffee and delicious snacks and in the evening, we find a beautiful sunset spot for something a little stronger as we watch the sunset in paradise. Game drives are one of the most common activities of a safari and it's easy to see why. A vehicle gives you the opportunity to cover large distances and from a high vantage point, which allows you to see more and get as close to the action. Some of the best sightings are seen from a game drive so keep your eyes peeled and binoculars in hand because you never know what Africa will throw at you.
2. Walking Safaris
Buckle up your boots and take a step into the intricate world of nature. Explore the wonders of the natural world with African soil crunching beneath your feet. From ants to elephants and from tracking lions to admiring birds, there is no better way to feel at one with the wild than on foot. You and your guide will set off after breakfast on an adventure of a lifetime as you tap into the African wilderness from the perspective of the animals themselves. Walks are often a favorite amongst guests and guides because it creates an entirely different feeling to that of a drive. It gives you the opportunity to tune your senses to the environment around you. Listen to the nearby alarm calls of Vervet monkey's and track the leopard they might have spotted. Feel the rough texture of a delicately constructed termite mound. Smell the summer storms brewing as that moist breeze lets you know the rain is coming and watch the excitement of the animals as they feel it too. A walking safari through the bush is the best way to feel at one with nature when on safari.
Riding on horseback through the African bush is probably one of the coolest things you can do and a dream come true for many of us. Feel as free as a bird with the cool wind in your hair and the warm sun in your face. Listen to the clickety click as your horse takes you on an adventure of a lifetime. On our Ride Hwange, Horseback Safari, we offer a 7-night horse riding safari through Hwange National Park, where guests set off on a five night expedition in semi-mobile camps, followed by two nights at Somalisa Expeditions, for guests to rest in luxury after the adventure. With expert guides, you will wonder alongside wild animals, allowing you to have a safari experience like no other. If an adventure is what you're looking for, look no further, this ones for you!
4. Boating Safaris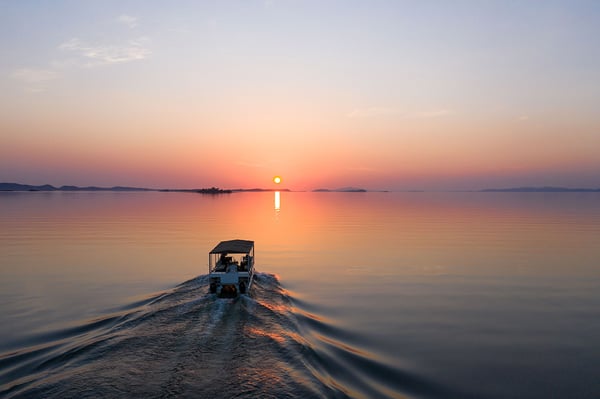 Biodiversity tends to congregate near a water source so sit back, relax and experience a safari teeming with wildlife. Our boat cruises give you the chance to drift down the Zambezi River in comfort whilst enjoying a beautiful array of birdlife. They are also the safest way to get up close and personal with our aquatic animals like hippos and crocodiles. Sunset cruises are often a perfect way to unwind and end a busy day. To make the most of the experience, we also offer catch and release fishing as an additional activity, which for many of us, is a way of relaxation. Our boat cruises and fishing trips operate in Lake Kariba as well as Mosi-Oa-Tunya National Park, two exceptional ecosystems.
5. Mokoros and Canoeing
A mokoro is a dugout canoe used traditionally in the Okavango Delta. People would hollow out the trunk of a large ebony tree and use a wooden pole to push the boat through the shallow delta waters, much like punting in Venice. A Mokoro was once a mode of transport for villagers to get around in the Okavango Delta, now it is a unique safari experience giving guests the ability to glide through the calm water letting modern day stresses melt away. This is a great way to explore Botswana from the perspective of the animals themselves. This is offered in both our Khwai and Linyanti Camps.
Experience the mighty Zambezi River from a completely different perspective. Canoeing gives you the unique opportunity to feel the refreshing flow of water beneath your boat and experience this world on the water first hand. You can try this out either at Mosi-Oa-Tunya National Park at Thorntree or Mana Pools National Park when you stay at Zambezi Expeditions.
6. Visit Victoria Falls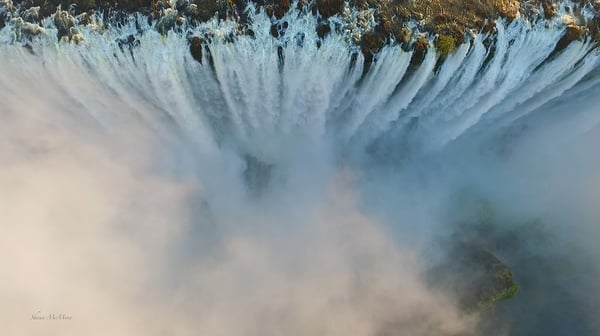 Being one of the seven wonders of the world, Victoria Falls is definitely one for the bucket list. This colossal cascade of water tumbles down a 108m drop creating an explosion of mist from the Zambezi River below. Because of this, the Mosi-Oa-Tunya National Park surrounding the falls translates to 'the smoke that thunders'. There are also plenty of activities to do around the falls including helicopter rides, white water rafting and bungee jumping. Staying on the Zambian side at Thorntree River Lodge, you would be away from the touristy hustle of the town, making it the obvious option for a relaxing destination. You can also view the falls from either the Zimbabwean or Zambian side, depending on the season and waterflow.
We offer a variety of ways to experience nature and there is an option for everyone. For those of us that like reconnecting with our roots, the horse back riding and walking safaris provide the chance to interact with nature at another level. Equally, game drives and boat cruises give you the chance to sit back, relax and let nature entertain you. Get in touch here to start planning your trip on a lifetime.