Our intimate camps at African Bush Camps set the scene for both exploration and relaxation, bringing a touch of luxury to the natural world, ensuring you create special memories to last a lifetime. Wake up each morning to the melody of the dawn chorus and heart-stirring vistas of wild Africa, before a day of thrilling game drives, sunset cruises, scrumptious cuisine and first-class hospitality. Simply kick back and allow yourself to be swept away by the romance and grandeur around you. This is sure to be a memorable and romantic getaway.
To prove this, we've put together a list of our 'Top Romantic Spots' at African Bush Camps for you and your loved one to share when on safari with us.
#1 Open Air Bed - Linyanti Expeditions
Reawaken your senses and reconnect with one another underneath the Savannah stars. Curl up with your loved one beneath a blanket of glimmering stars, immersing yourself in the wonders of the wilderness, from the safety of your mesh-enclosed private deck. Cosy up and whisper about the many memories made during your time in the African bush. Let the sounds of the vibrant African night envelope you as you drift off into restful slumber, or stay up and be on the lookout for a lion roaming past your tent.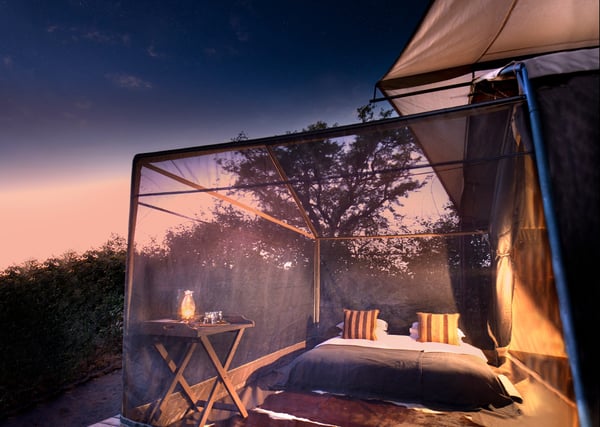 #2 Romantic River Deck - Thorntree River Lodge
Return from a romantic sunset cruise and be escorted to a candlelit deck situated on the edge of the Zambezi River. Sit back with your loved one and indulge in our African inspired fine-dining experience listening to the calls of the African hippos. After dinner, share campfire stories of your breathtaking day before retreating to your room for a night dip in your plunge pool on the edge of the river.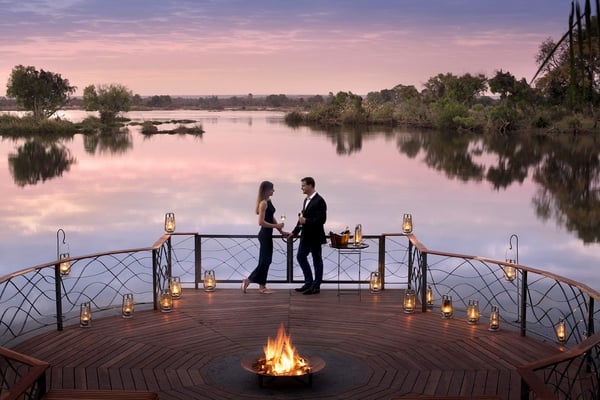 #3 Kariba Lakeside Dinner - Bumi Hills
Picture this: A table set on the edge of a lake, your loved one sitting across from you, candlelight illuminating your table, sand beneath your feet, looking out over the silhouetted trees in the copper sunset as you dine in a place where animals roam wild. It's a genuinely heart-stirring experience.
After dinner, cozy up and relax around the campfire in each others arms as you and your better half get lost in the starry night above you. Here, the stars utterly dominate the land; their brilliance is arresting.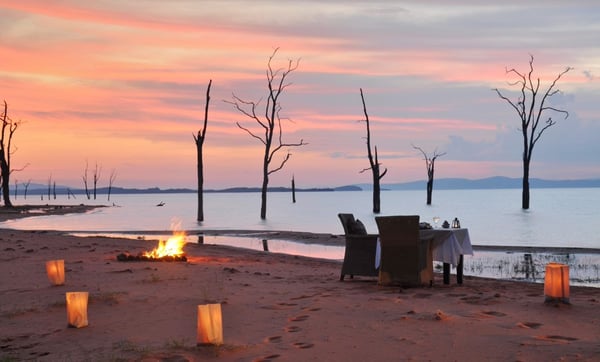 #4 Rays Pan - Somalisa Camp
'She said YES!' This one had to be included in our top 5! Last year we were honoured to have this lovely couple get engaged on Rays Pan, a beautiful lookout deck situated a few minutes from Somalisa Camp, where one can watch animals visit the local water hole. He popped the question with a herd of elephants in the background, and they shared a sundowner overlooking the golden Savannah plains of Hwange.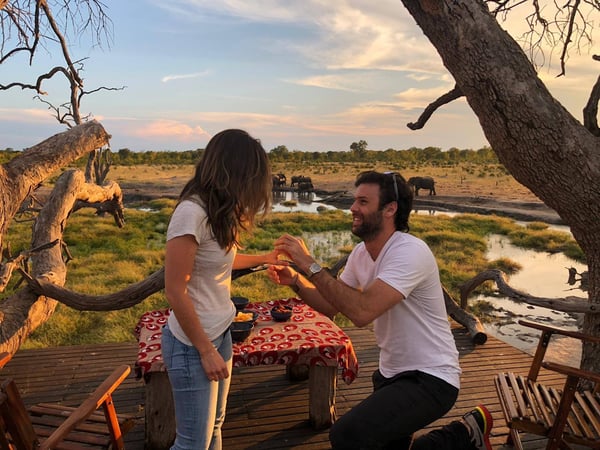 #5 Zambezi Expeditions
This one's for the 'adventurous couples'!.
Arrive back from an exciting canoe safari and enjoy a meal right on the banks of the Zambezi River. Retreat to your tent set under the winter thorn and ebony trees, and fall asleep to the sound of the flowing river and chuckles of hippo. Comfortable yet classic, this camp offers the kind of intimacy with nature that is only achieved by immersing yourself in the heart of the wild.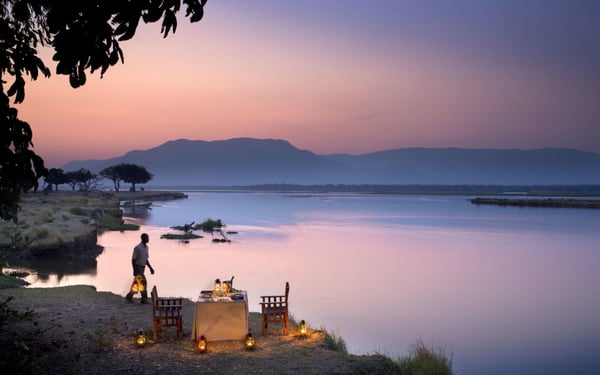 Bonus Spot
#6 Baobab Bath - Azura Quilalea Private Island
A private bubble bath for two, overlooking the ocean, on a private island. Relax with your loved one over a glass of champagne watching the sunset over the ocean. Let the salty sea breeze remind you of your day spent exploring the private island's turquoise waters and sandy beaches.
This spot is a secluded slice of heaven on this Northern Mozambiquan private island. This tranquil destination is available in our 'Safari and Sea' Honeymoon package, where couples can get active with water activities and nature walks, or simply enjoy each other's company in the privacy of their beach villa.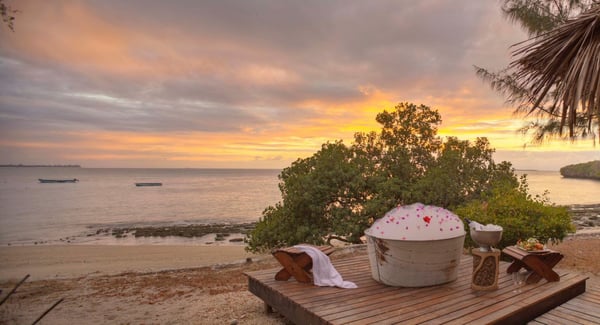 Please Note: Our guides and camp hosts are very accommodating to the setup that you desire, however these setups do take time and need to be prepared in advance. Please speak to your safari planner beforehand for the setup you're hoping for. The more we know, the more magic we can create!