It's dusk. The still air is hot as is my breath. I can't resist taking another image of the large golden orb sinking below the horizon leaving in its wake rich hues of pinks, purples and misty blues with trails of grey clouds. I sigh contentedly and take a sip of my ice-filled gin and tonic.
"There are lions!" I exclaim suddenly pointing into the distance. Well, no more than a 100 meters away really. It's just Cliffy, a field guide, and I in the open plain surrounded by expanses of dry gloomy earth and smatterings of broken dead wood. The drought has gone on for too long. I feel the urgent need to have the Cruiser hide my presence. But they have spotted us and in acknowledgement they lie down slowly and face us.
"They are on their way to the camp," Cliffy explains.
There they will get their replenishment from the eponymous Kanga Pan pumped with water from a borehole. There too, they may get their evening meal.
We only spot them later that night while having dinner on the deck overlooking the pan. The lioness struts unseen by the rowdy crowd of impalas, elephants, civet and buffalo from the thicket to a small muddy pool. Her pregnant sister is nowhere to be seen but her low roars alert us all and the prey scatter.
It's a normal day at Kanga Camp, the home of the armchair safari. The pan is the only water source within a 20-kilometre radius making it the meeting place daily for all the predators, antelope, primates, wild dogs, pachyderms and birds in the area. A game drive away from the camp is fun but not necessary not when they come to you.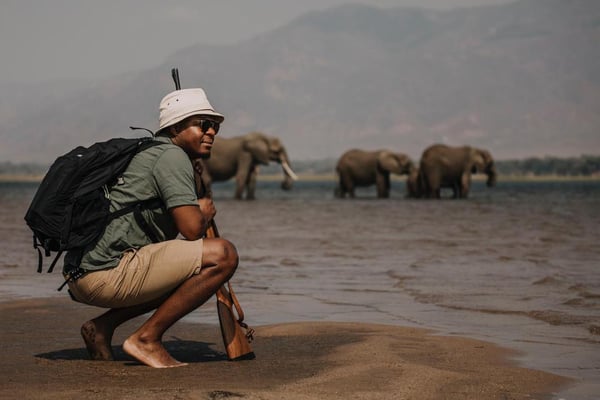 Bekezela 'Beks' Ndlovu, founder and CEO of African Bush Camps first came across this hidden Eden, the long forgotten home of the Kore Kore people when he was guiding guests. While the communities had been relocated in the fifties and sixties to make way for the Mana Pools National Park, very few people were interested in this part of the UNESCO World Heritage Site. Too wild. Too remote.
Beks understood its magic.
"Kanga is the place where if I had guests for half a day or a full day is where I could go and nobody would find it," he explains. "There is something appealing about going to a place and it feels like you are taking people there for the first time. Where it feels like you know the wildlife that's seeing you."

What was once a simple bush camp is a discreet village of six Meru-style tents raised on wooden platforms whose cavernous interiors are coloured with warm, earthy hues offering a rustic elegance. At night the solar-powered lanterns and womb-like beds permit the chasing of dreams as you dose to the numerous calls of the wild. During the day the luxurious divans and natural light hold their own melody as you watch the wildlife frolic lazily. Don't mind that as you sink into a foam bath or luxuriate in a cool shower outside the baboons and warthogs will grunt greetings before running away playfully.
The majority of visitors to the African continent are drawn to its wild nature but the magic truly happens when visitors connect with the culture, history and diversity of the people who live within.
"In my 24 years of experience in the tourism industry, what I've found is that you know you can have a fancy camp, but if you're guiding and your staff don't produce the magic and if your guests don't connect with them then that product is pretty much useless," explains Beks. "It's about the experience that people have and I guess one charm about Africa is really capitalising on the warmth, the enthusiasm with which, particularly Zimbabweans, embrace and receive people."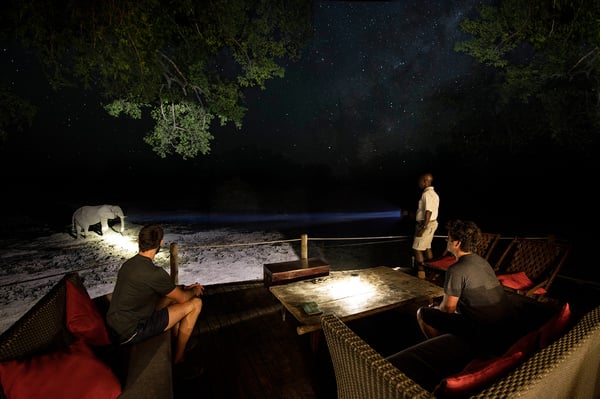 Before dinner, when I find myself connecting to an elderly couple who love travel, a younger couple who look for rustic and luxury in their separate ways, and a couple who are eager to fill their memories with photographic close-ups of wildlife the rhythmic beating of a drum and song call us to the table. Dance, beats and ululating tell the stories of everyday life. Choruses welcome you home as you arrive and echo 'till we meet again' when your new-found brothers and sisters wave farewell.
A starter of cold roasted tomato soup with croutons begins our evening meal along with a choice of red and white wines.
"If you miss these wines you'll never be famous in this world," Taffy, Camp Host and raconteur extraordinaire, says in jest. He believes every visitor to the camp is a family member returning home whose presence must be celebrated.
Beks' vision with Kanga Camp and the African Bush Camps portfolio is really about celebrating the individual stories of people, cultures, heritage and wildlife and in the telling of these stories he harkens to the days of old when a mystical synchronicity existed between man, nature and animal. Conservation is the result as is the reclaiming of African stories.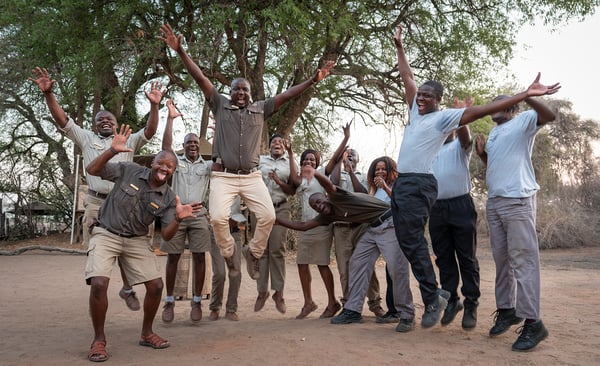 "We are trying to get Africans to live with the issues of wildlife. We are trying to get them to tell a different narrative to the one we've heard over the last few hundred to two hundred years. We have our own stories to tell and we need to own those."
As dinner ends the lioness leaves the pool and makes her way towards my tent. On my way to my sleeping quarters we notice her paw prints in the sand. Once again our stories collide and once again, I call to Cliffy, my brother.
Take a look at the specials we're running when you travel to Mana Pools National Park here.