There is no question that the outbreak of the COVID19 is raising global concerns. With most international ports of entry now denying access to visitors entering from high risk areas and pulling out all the stops to ensure the safety of their people, travel has pretty much come to a standstill worldwide.

We are aware that these uncertain and unpredictable times can be very stressful amongst travellers - whether you now have to postpone your trip

or were looking to travel in 2020. The health and safety of our guests and staff members has always been, and will continue to be, our number one priority here at African Bush Camps. Through this difficult time we ask that you listen to the decisions and enforcements being made by your government to keep you safe. Rest assured, we will still be here for you when the dust settles and Africa will welcome you with open arms.




The 'Good News' - Every cloud has a silver lining.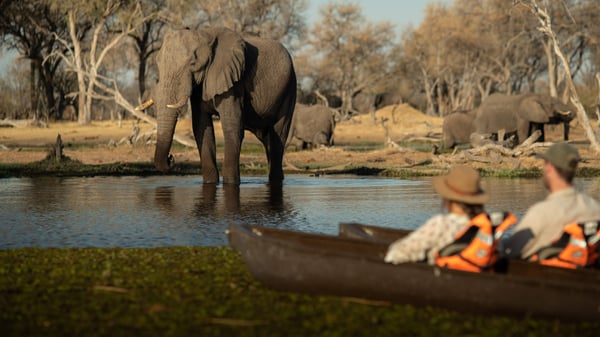 Book Now, Travel Later. Never to be Repeated Specials!
If you are sitting at home and dreaming of your ultimate holiday for when the dust settles - we encourage you to take advantage of our 'Never to be Repeated Specials' - where you could save up to 65% off our luxury safaris and can travel as late as March 2021.
How does this work?
We are offering guests the chance to book now, at extraordinarily low rates, and travel later! Guests will have until the end of April to book and pay for their safari with us, but will be allowed to travel until the end of March 2021.

Guests booking before the end of April will receive up to 65% off our luxury safaris located in Zimbabwe, Botswana and Zambia. Take a look at our Never to be Repeated Special here. Now is the best time to take advantage of reduced flight costs and accommodation rates and settle your plans for your African adventure.

All you have to do now is sit back and start choosing which luxury safari of ours you will finally be ticking off your #2020bucketlist (at a fraction of the price!).

We hope this article has given you some peace of mind and reassurance when it comes to booking travel in 2020. Tourism is an important piece of the global economy as well as an important contribution to conservation, so we encourage you to still travel to Africa after the Coronavirus pandemic is over. There is an African Proverb, one of my favourites, that states, "If you want to go fast travel alone, if you want to go far go together" - we want to remind all travellers that we are in this together and together we are stronger.