There are many benefits of going on a family holiday and travelling with children does not mean that you need to give up your wanderlust or put aside your desire to journey around the world. Consider a family vacation to Africa, a continent of great diversity and adventures. There is so much to do and see, explore and learn for both adults and children of every age. An African safari is unique and can help introduce the world to children in ways that can't be taught. Travel is a rich and rewarding experience and a family safari is an adventure you won't want to miss out on.
Here are our top 6 reasons to take your family on an African Safari
1. See wildlife up close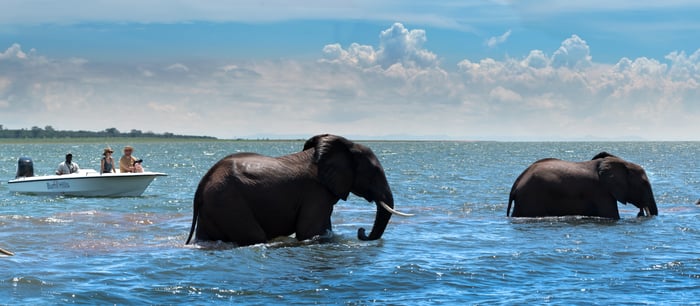 An African Safari gives you a chance to see wild animals up close in their natural environment. Your family will be treated to an authentic and spectacular viewing experience that's unlike any other. Seeing the beauty and majesty of animals at home in the African wilderness instills the passion and values of conservation and preserving our natural heritage for generations to come.
2. The Big and Little Five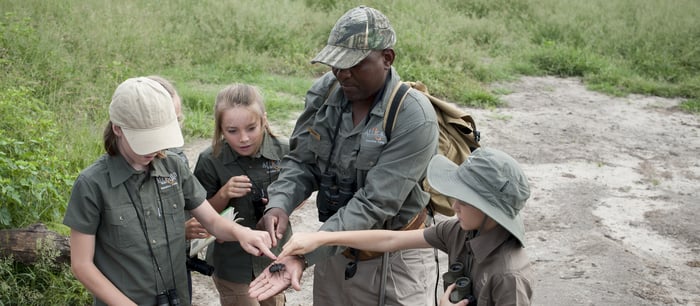 Spotting the Big 5 on safari is a highlight for many guests. However, while these animals are beautiful and exciting to see, there is so much more to see and learn about. Children, in particular, are often enthralled by the smaller species and creepy-crawlies such as lizards and dung beetles. Learning about the Ant Lion can be just as fun as watching a pride of lions; and learning about the ecosystem teaches children to be responsible and ethical members of the world.
The Big Five
The Little Five

1. Lion
2. Leopard
3. Elephant
4. Rhino
5. Buffalo

1. Ant Lion
2. Leopard Tortoise
3. Elephant Shrew
4. Rhino Beetle
5. Red-Billed Buffalo Weaver
3. Quality Family Time
A family safari takes you on an adventure to wild, remote and beautiful places, where the emphasis is on connecting you to the natural world and each other. Out in the bush, you are far from distracting screens and mobile phone signal, allowing you to switch off entirely. This allows families to try something new together, share adventures and experiences, and sit around a camp fire at night, talking under the stars.
4. Learn about the Local C
ommunities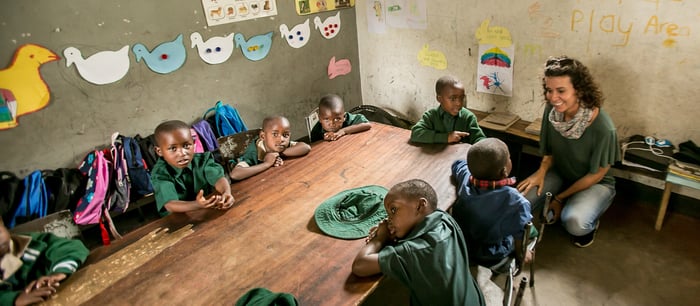 Africa is rich in wildlife, experience and adventure, but a many African communities are impoverished. Through the African Bush Camps Foundation, we run community initiative programs to highlight the lives of local people and help improve the basic needs of the communities. A cultural visit to these communities is a rewarding and inspiring way to spend a day on safari. Teaching children about cultures that are different from their own is an invaluable experience.
5. Create Lasting Memories with Your Family
There is nothing quite like an adventure to bring people together and create memories that will last a lifetime. Imagine the impact that a day on safari will have on your children. The wonder of seeing a herd of elephants silently pad across an open savannah, the majestic sound of a lion roaring in the dark, or even a night spent under the endless starry skies of Africa. Those memories are priceless and will be cherished forever.
6. Take Some Time for Yourself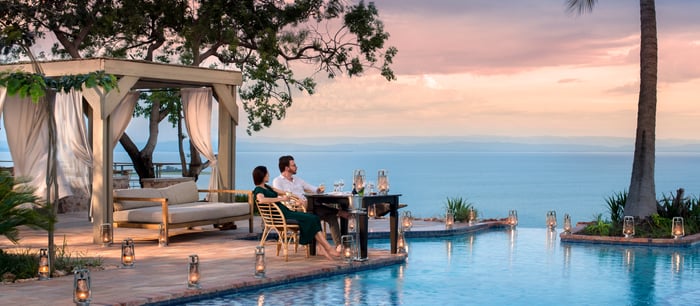 Our luxury safari camps and lodges, in Zimbabwe, Botswana and Zambia have dedicated Ngwana Club for kids. Games, activities and specialist child guides are able to keep your young explorers busy while you take it easy by the pool with a gin and tonic. Relax and indulge while your children are taken care of with an educational experience that's better than any nature program or book. It's hands-on and interactive learning that's disguised as fun, while you get to kick back and unwind.
So, plan a family safari! Detach from your daily stress; expose your kids to new experiences; connect as a family; and create memories for the future.